GL.iNet is the smallest smart router in the world, with Customized OpenWrt system, you can use various software extensions. Newly designed easy to use web interface; directly control your router via ios and android app.Serial port soldered on board, perfect for DIY users and openwrt learners. With uboot kenrel, compatible TP-Link WR703N firmware! Include 1 TTL port!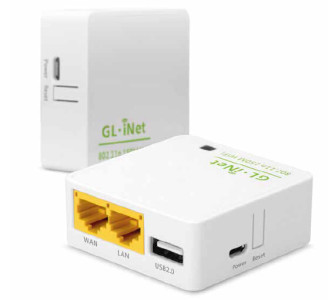 How to upload firmware to GL.iNet 6416 in uboot?
Pre-requisites : 
LAN/RJ-45 cable (u don't want to flash your router wirelessly huh!!)
WinRAR or 7Zip or any other software to extract the files.
Steps : 
Connect only one cable to your router, and leave the other unplugged.
First, press and hold the Reset button firmly; then power on your device.
Set your computer's IP address to 192.168.1.2
User Firefox or Chrome to visit http://192.168.1.1
Click on appropriate options as shown above and select upload bin fine and click on OK Wait for 2-3 minutes, router will auto restart Just wait n watch you'll have the English interface in front of you.
Do NOT turn off the power or remove the Ethernet cable during the upgrade process.
OpenWrt firmware Factory for TL-WR703N [Download]