TOTOLINK N601RT wireless dual-band router set wired / wireless network connection in one, in line with IEEE 802.11n / a / b / g / n standards, 2.4G / 5.0G concurrent dual-band router, the maximum wireless transfer rate up to 300M (2Tx -2Rx). Using MIMO technology to provide 4 Mbps LAN interfaces, provide better wireless performance, stability, and wireless coverage. Support QOS traffic control functions. Excellent design from Korea, give you a new experience.
ToToLink N601RT V5.0 Change logs:
1. Wireless WiFi frequently disconnected
2. LAN PORT sometimes can not automatically obtain an IP address.
3. Optimization router system.
Firwmare update Guide:
There are 5 steps to teach you update your Totolink N601RT.
Step 1.  firmware Download
Download the v5.0 firmware in the following link: http://download.minihere.com/router/totolink/ToToLink N601RT V5.0 Firmware(www.minihere.com).zip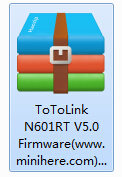 Step 2. Unzip the File
Using WinRAR or Winzip, unzip the firmware files. You should end up with a "TOTOLINK-V5.0-B20140513_2_827_ALL.web" file.
Step 3. Use RJ45 network cable to connect a LAN port router

Step 4:  Enter 192.168.0.1 in your internet browser ( Default USER NAME: admin Default PASSWORD: admin )
Step 5: System status → firmware update → Browse the file TOTOLINK-V5.0-B20140513_2_827_ALL.web → Click Upgrade → Waiting for the system upgrade is completed (It takes about 1-2 minutes)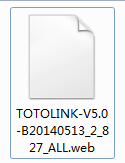 After the update is complete, the router will auto restart.
Enjoy speed!