Nintendo 3DS adventure game Dai Gyakuten Saiban: Naruhodou Ryuunosuke no Bouken freely through SKY3DS flashcard support from now on. The card with the latest template file, which is released in July, the 13th increase support for 3DS title wearing Ace Attorney: Naruhodou Ryuunosuke no Bouken in JP version. If you still buy the retail game cards one by one to enjoy these great games for Nintendo 3DS, you too outdated. With sky3ds hackers 3DS, N3DS and 2DS console, the 3DS almost all comfort, consolation users can download free 3DS ROM's play. Here in this post will tell you the whole thing.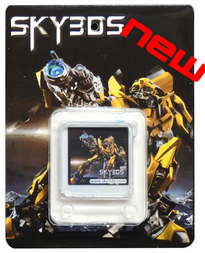 * Sky3DS updated template file [07/13/2015]
Change logs:
1.Fixed some bugs.
2.Added game:
CTR-P-BDGJ116E =Daigyakuten Saiban - Naruhodou Ryuunosuke no Bouken (Japan)
CTR-P-AA8K2547 =LegoCity Korea_TEMP
The sky3ds is a 3ds game flashcard, which means support multi and downloaded 3ds game roms on 3ds system(3ds, new 3ds and 2ds all based on it), use this card on your nintendo 3ds family handhelds, you can tun the 3ds/new 3ds/2ds into a game machine. It supports over 30 3ds games with one card and one micro sd/sdhc card, 3ds gamers don't have to buy or change 3ds game cartridges one after one to play 3ds games. To install it on 3ds, new 3ds and 2ds is simple and easy! Do the following things, then you can play nealy all downloaded 3ds roms freely and directly.